12 Car Interior Modification Ideas You Should Act Upon
Whether you drive every day or just once in a week, you want to keep your car in a proper condition at all times. After all, you've invested your time, effort and money into getting it, so nothing should come in the way of you deriving maximum value and return on your investment.
As much as it serves its functional purpose, your car, also, is one of your most prized material possessions. For some, it acts as a statement of luxury more than fulfilling its intended use. Whatever be the case, it is an asset that requires regular maintenance and upkeep.
There are certain things every car owner needs to do, like regularly cleaning the exterior and the interior of the car, and taking the car for periodic checks to the garage. And there are other things, that a car owner can choose to do, to enhance their overall driving experience.
We, at CETUS, insist on exercising that option! Even though today's cars come equipped with such features and elements that ensure a comfortable driving experience, there is ample scope to take that experience to the next level. This is made possible with the help of aftermarket products and services.
CETUS Automotives specialises in the interior aspects of your car. In this blogpost, we're going to talk about 12 such car interior modification ideas, which you can implement to crank up your driving experience. After all, it's the interior where you spend most of your time, with your car.
Let's jump right in!
1. Seat Covers
The seats of your car occupy more than 70 percent of the whole interior. Seats are that very facet of your car with which you come in contact with, for the longest. It's therefore very obvious that you want your seats to feel comfortable. Further, customising your seats can instantly upgrade the look of your car's interior!
You can make your car seats look good as well as feel good, by choosing the right material for their covers. Choice of the seat cover material depends on certain important factors, such as your budget, level of comfort desired, climate conditions of the place you reside, material durability, and aesthetics.
Seat covers are one of the primary aftermarket products available for your car, suiting every taste and budget. If you're not happy with how your seats look and feel, you can always reupholster them with the material that is right for you. Seat covers come in a range of materials such as Leather, PU, Alcantara, Canvas and Velour.
Price Range: Genuine Leather Seat Covers – Rs. 44,000 to Rs. 76,000; PU Seat Covers – Rs. 9,000 to Rs. 12,600; Fabric Seat Covers – Start between Rs. 2,500 to Rs. 5,000
2. Steering Wheel Wrap
Customisation knows no bounds when it comes to the interior of a car. Just like the seats, you can reupholster and customise your steering wheel to speak your code, with aftermarket covers.
Steering wheel covers, or wraps, come in different materials like Alcantara, Leather, Synthetic Leather and Rubber. Choose one that suits your taste and offers you the most comfortable yet firm grip, especially if you reside in a place with extreme climate conditions.
In addition to their practical benefits, steering wheel covers also deliver an aesthetic value and let you show off your individuality. While choosing the material, take into account the colour options available, as the colour and tone of your wheel should blend well with that of your seats. A good quality cover will also protect your steering wheel material from wearing out.
Price Range: Alcantara Covers – Rs. 5,500; Leather Covers – Rs. 3,500; Leatherette Covers – Rs. 2,000; Rubber Covers – Rs. 200 to Rs. 600
3. Floor Mats
Floor mats are another prominently visible element of a car's interior. In addition to adding to the aesthetic factor, floor mats serve a practical purpose of shielding your car's floor panels from dust and dirt. They are removable and can be cleaned easily, as opposed to the interior panels, which may require a considerable amount of effort.
When it comes to the aesthetics, floor mats allow you to get as creative as you want in customising them. You can have an eye-catchy quilting pattern embroidered, or an image of your favorite F1 racers manifested on the mats.
Car floor mats are made with a range of materials, including rubber and leather, and come in a rich array of colours to choose from. Opt for a material combination that features a feel good factor, along with doing a decent job in trapping the dirt elements. Be sure to check their fit in your car, if you go for readymade mats, or have them made to fit.
Price Range: Rubber Floor Mats – Rs. 600; Leather Floor Mats – Rs. 20,000; Synthetic Floor Mats – Rs. 9,000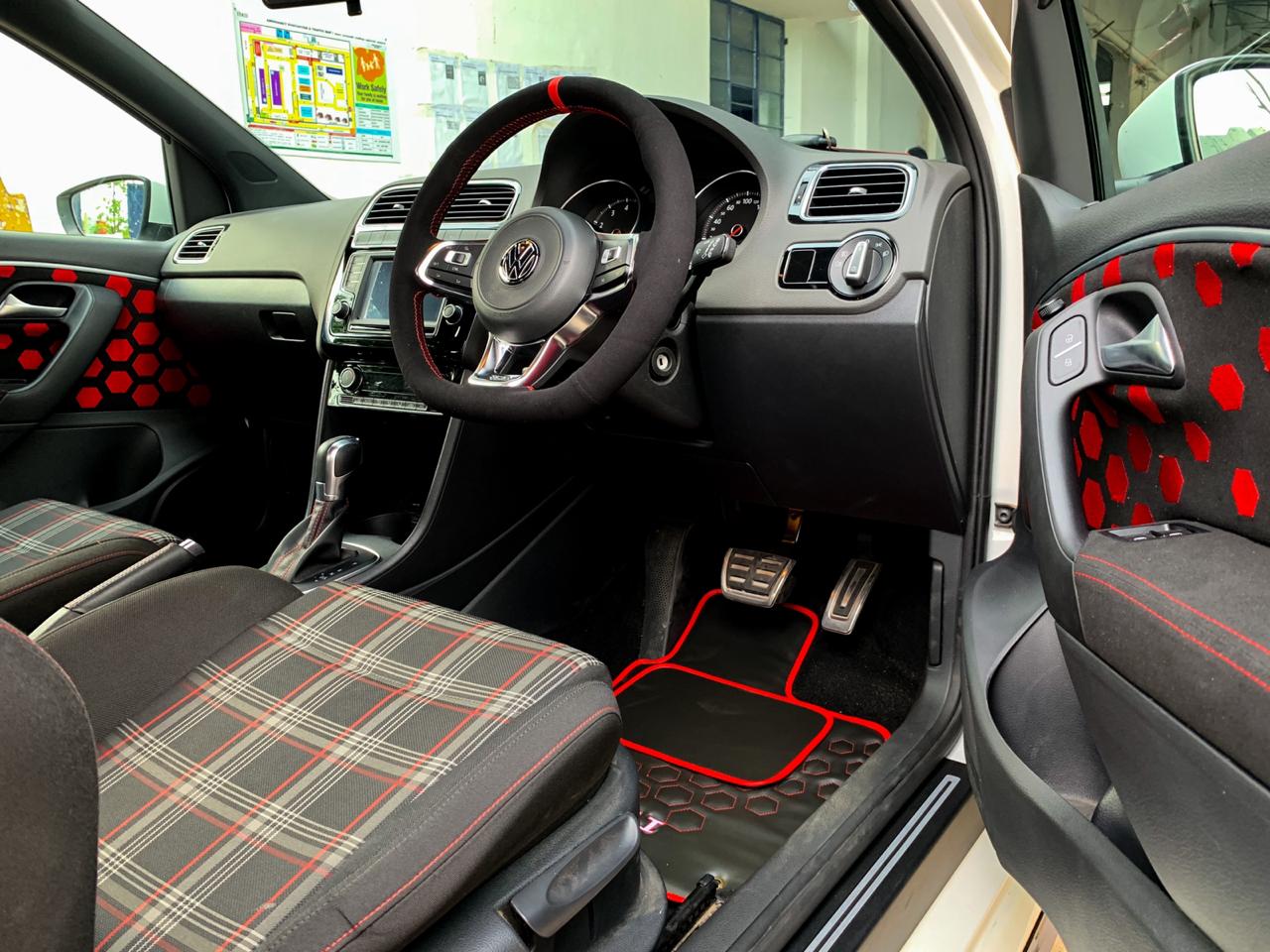 4. Dashboard, Center Console, and Pillars
You can modify and customise the dashboard, the center console, and the pillars inside your car, to speak your language, tone and personality.
Reupholster these three surfaces in your car with your choice of material, and lend them a fresh new look and feel. The images below showcase these elements of a classic Mercedes, being restored from scrap with Black Nappa Leather and Black Alcantara upholstery, with White stitching.
Some automotive dealers and companies also offer a service called Hydrographic Printing, which allows you to have a myriad range of designs manifested on these surfaces. When applied, your chosen design will lend these surfaces, and consequently the overall interior, the X factor!
Price Range: Reupholstering all 3 surfaces with: Leather – Rs. 6,500 to Rs. 15,000, Suede Fabric – Rs. 6,500 to Rs. 9,000
5. Gear Knob, Gear Boot and Handbrake
Although the gear knob, the gear boot and the handbrake together occupy a minute proportion of the whole interior, they characterise a high visibility because of their continued usage. These components can be customised to look different than usual, with an assortment of options as multifarious as those for your smartphone cover.
The choice of the material for the gear knob and the handbrake cover should depend on the feel as much as on the look. Apart from going well with the rest of your interior, the material must be comfortable for you and your grip.
Price Range: Leather Gear Boot & Gear Knob – Rs. 1,500 to Rs. 2,500; Synthetic Gear Boot & Gear Knob – Rs. 800 to Rs. 1,500; Leather Handbrake Cover – Rs. 2,000 to Rs. 3,000; Synthetic Handbrake Cover – Rs. 800 to Rs. 1,200  
6. Door Panels and Armrests
Door Panels and Armrests are those facets of your car's interior, with which your forearm comes in frequent contact. Needless to say, the upholstery on the door panels and the armrests needs to be comfortable for you and your forearm.
Leather is a material that characterises good permeability to water vapour, and thus, is able to absorb and hold high quantities of human perspiration, and dissipate it later. This makes Leather one of the most comfortable materials for the human skin, and therefore, a good choice for reupholstering the door panels and the armrests in your car.
If you desire a sportier look alongside a comfortable feel, you can choose Alcantara for reupholstering your door panels and arm rests. Take them to the next level by having custom embroidery done on them.
Price Range: Leather upholstery on Door Panels & Armrests – Rs. 3,000 to Rs. 4,500; Alcantara upholstery on Door Panels & Armrests – Rs. 7,000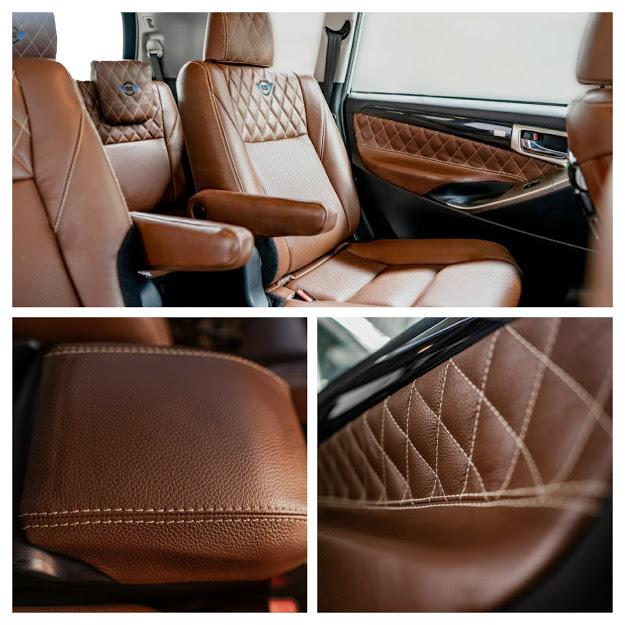 7. Roofline
While upgrading the interior of your car, do not forget the roofline that adds significantly to the interior's look and feel. You can customise the roofline in a manner that blends well with the rest of the interior, either yourself or have an automotive dealer do it for you. There are quite many "How to" videos available online if you want to do it yourself. 
For the material of the roofline, you have a range of options such as the luxurious white leather, suede fabric, or a tricot knit fabric. The picture below showcases the roofline inside a Maserati Quattroporte, customised by CETUS, with black suede fabric.
There are multifarious possibilities for the design of your roofline. Choose a design that is delightful to the eyes and adds to the ambience inside your car.
Price Range: Suede fabric roofline – Rs. 10,000 to 18,000
8. Ambient Lights
The emergence of LEDs has widened the scope of usage of lights. LEDs infuse a decorative effect wherever they're installed, and this is no different for the interior of your car. If you're one of those who enjoys taking the road in the late evening hours, you may want to elevate your experience with LED lights that will create a lounge-like ambience inside your car.
While certain cars, such as Mahindra XUV500 and Toyota Yaris, come with pre-installed LEDs from the factory, most others require separate installation. LED lights come in a wide variety of options, ranging from dashboard strips to under-panel lamps. Remote controlled, these ambient lights allow you to change their colours on the fly.
Complement the mood with the right music, while you enjoy your ride!
Price Range: You can choose from a wide range of LED strips, Neon strips, and Under Dash LED Kits available at Amazon, with prices varying from Rs. 400 to Rs. 1,200.
9. Seat Massagers and Heating System
While driving your car, if your back hurts, then this interior upgrade is a need more than a choice. On Indian roads especially, where you have to drive through potholes and rough terrains, you can end up suffering a prolonged back pain. Most neck pain, shoulder muscle tension and spine problems occur today because of this.
If you drive a long distance to work every day, and have a 9-to-5 desk job, you're already putting your spine through an awful lot. Uncomfortable car seats can make your driving experience traumatizing. The solution? Car seat massager with heating system.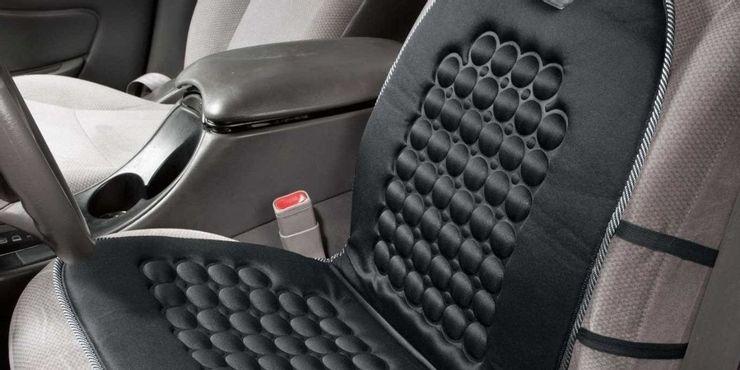 A car seat massager with a built-in heating function will serve as a best friend to your spine. It massages your muscles while you drive, rejuvenating your back, neck, shoulders and entire spine. It is not only an ideal and comfortable add-on to your car's seat, but also a long-term cost saving solution as it prevents prolonged spine problems.
Price Range: Grin Health, JSB, Qawacch are a few brands of electric massagers that are suitable for cars. Take a read through this link, for more details on such massagers, their features, and warranty periods. Their prices range from Rs. 8,000 to Rs. 30,000, depending on the brand and the product features. 
10. Phone Mounts
You should not use your phone while you drive, as it's both unsafe and against the traffic rules. Yet many seem to ignore this as attending to the phone is seemingly more important to them than their own safety, and the safety of others.
Phone mounts are a solution to this, as they hold your phone in a fixed position and keep it steady, even on rough roads. This does not imply that you can use your phone to call or text people, while you drive. A phone mount comes in handy when you need to use GPS navigation for reaching your destination, or want to listen to a curated playlist of music.
Do not forget to unmount and take your phone, when you park and leave your car!
Price Range: There are several different brands and varieties of Phone Mounts that you can easily avail at Amazon, for your car. These mounts attach steadily with your air vents, dashboard, windshield and rear view mirror. Some of them are magnetic and attach to your phone's backside. Prices range anywhere between Rs. 300 and Rs. 2,000.
11. Bluetooth In-car Speakerphones
Bluetooth speakerphones are a complete hands-free solution for answering phone calls and engaging in conversations, while on the road. Thanks to today's ultra-busy life, you want to use your time whilst you drive, to engage in calls and get things done. In such a scenario, you need a bluetooth speakerphone installed in your car.
This device pairs and connects with your phone, and allows you to answer calls directly from its dedicated control buttons. Thus, you can answer calls without having to pick up the phone. These speakerphones come with noise cancellation technology, which allows you to talk seamlessly by dampening the surrounding noise of the traffic.
In addition to answering calls, these speakerphones can play music as well as GPS directions, from your phone. Some of today's speakerphones also feature Voice Command technology that supports Apple's Siri and Google Assistant.
Price Range: TANTRA Fluke PRO and Tewtross TT SPK202 are two such popular Bluetooth speakerphones for cars, available on Amazon. While the former features a simple Plug and Play installation (AUX out cable), the latter features a clip-on mechanism and can be easily clipped onto your sun visor or seat belt. They're both compatible with Bluetooth-enabled phones, and both feature Voice Command. Priced at Rs. 1,499 and Rs. 1,581 respectively, on Amazon.
12. Infotainment Systems
Aftermarket infotainment units are arguably the most attractive and versatile feature inside modern day cars. Getting a new car stereo today essentially means getting a full package infotainment unit that has an operating system, and an array of pre-installed applications like Bluetooth, maps and GPS navigation, multimedia apps like Netflix, YouTube and Spotify.
These infotainment units feature an HD touch display, WiFi, USB ports, and wireless screen mirroring. They also enjoy seamless connectivity with other car parts like the Rear Parking Camera, Sensors, Speakers and Subwoofers. Using Bluetooth, you can connect your phone with the system and answer calls, texts, and play music directly from its intuitive controls.
Such infotainment units are pre-installed in the most premium variants of some cars. For others, there's a plethora of aftermarket options to choose from. These units come in different sizes so be sure to choose the one that will properly fit into your dashboard. In some cases, certain dashboard area may be required to be cut, while in others, you may need to attach a separate fascia frame to fit the unit.
Price Range: WOODMAN is a popular Indian brand that is known for its range of 7-inch and 9-inch car stereos. The 7-inch stereos sport a universal design, and require a fascia frame and a coupler specific to your car to be properly fitted. Prices range between Rs. 9,399 and Rs. 15,999. The 9-inch stereos come with car-specific frame and coupler, and look like company-fitted units, thus enhancing the look of your car's interior. Prices range from Rs. 12,499 to Rs. 46,999. These stereo systems are compatible with both iOS and Android phones. Other brands include GoNec and AUTO SNAP.
How have you customised your car interior?
So the above were 12 such ideas that you can act upon, if you haven't yet, to have the interior of your car speak your code and language.
But if you have already, we are curious to know what you've done to customise your car interior. Got those luxurious leather seat covers you were longing for? Or customised your steering wheel with Leather and Alcantara to lend it a sportier look? Or upgraded the sound system by installing a versatile, noise-cancelling speakerphone? Tell us in comments below.
And if you're considering giving your car interior a custom makeover, get in touch with us and we'll tell you how we can help. CETUS specialises in car interior upholstery. So whether it is your seats, steering wheel, door panels, or roofline, we can help you achieve your desired look and feel in your car.
For the upholstery, CETUS offers different material choices to suit your taste and budget. With a wide array of colours, quiltings, and perforations to choose from, we help you navigate your way towards upgrading your car's interior.
Check out our Instagram to see some of the projects we've completed.