Leather vs Fabric – Which fares better for your Car Seats?
Which part of your car you come in contact with, for the longest? It is not the steering wheel, not the gear knob, and certainly not the music system installed in your car. It is your car's seats. Yes, whether you are the driver or a rider, it is the seats that predominantly define and control, how you feel inside your car.
While deciding which brand, model and make of a car you should buy, you consider several important factors, such as your budget, size of your family, resale value, diesel or petrol, automatic or manual, fuel economy, safety and comfort features, and of course, your would-be usage and maintenance expenses.
One factor which is generally overlooked here, is the type of seats you want inside your car. To be more specific, the material of the upholstery that is fixed to your car's seats.
While this may not be that important a feature you look into when you shop for a new car, it is certainly not something you can ignore. After all, it is you who will be sitting on these seats while riding your vehicle. Thus, it's a question of your own comfort and convenience.
The seats are your first and last contact with your car. They determine not only how you feel inside your car, but also how you feel about your car. And also, how others feel and perceive your car.
The material of the upholstery on your car's seats and interior, adds significantly to the overall look, touch, and feel of the interior. And when it comes to choosing this material, the popular debate is – Leather vs Fabric.
Leather and Fabric are two broad categories of car seat cover materials, under which other material sub-types, such as PU, Velour or Canvas, fall.
And when you're deciding which material to choose for your car seats, the question isn't "Leather or Fabric, which is better?", but rather, "Leather or Fabric, which is better for you?"
What to know and consider, while deciding between Leather and Fabric?
Before we break down to comparing and analysing both these material categories, let us enlist all the important factors that need to be considered, while zeroing in on the type of seat covers.
These factors include,
Let us understand each of these, and see which material fares better for your car seats.
1. Price
First is the Price, one of the very initial things we consider before buying anything new.
When it comes to price, Leather will cost you more. If you opt for genuine leather, then depending upon the grade of the material (like bonded, split-grain, or top-grain leather), and the type of car (hatchback, sedan, or SUV), installing new, custom car seat covers can cost anywhere from Rs. 45,000 to Rs. 80,000.
If you choose to go with artificial, or synthetic leather (like faux, vegan, or PU leather), then the price would hover around Rs. 12,000 to Rs. 18,000, including installation of the new seat covers.
Fabric, or Cloth, on the other hand, will cost you considerably less than genuine leather, and usually less than artificial leather as well. The price for fabric seat covers can range anywhere from Rs. 5,000 to Rs. 13,000, depending upon the material of the fabric.
However, price is not the only factor you look at, especially when you're considering upgrading your car seats. So let's take a dig deeper.
2. Aesthetics
With practically anything material you own, you want to make sure it looks good, and feels good.
Leather, as you may already know, gives off a luxurious and resplendent appeal, on anything that is ornamented with it. Leather upholstery, on the seats and other surfaces of your car's interior, such as door pads, is actually considered an upgradation of the whole interior.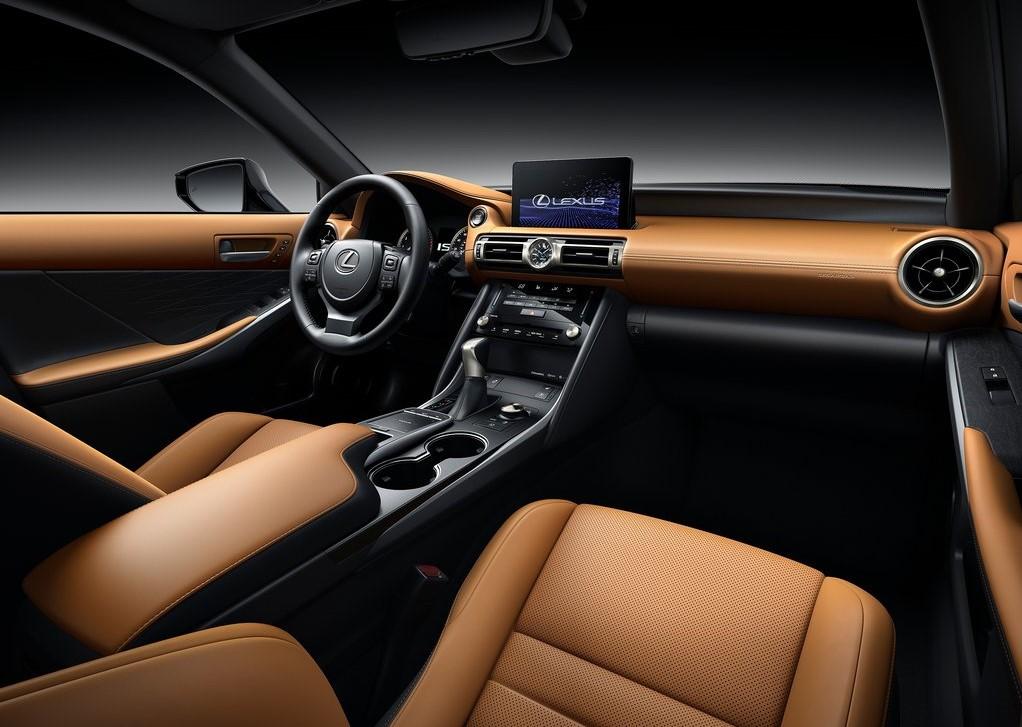 Fabric is a more plain and practical choice for car seat covers. While it may not exude the premium look and feel that leather does, it is still an aesthetic buy.
The advantage with Fabric is that it comes in a wide range of material options, such as velour, polyester, canvas, neoprene, and more. It also offers you more choices for the colour and design of your car seat cover, than leather.
So with aesthetics, it is up to you what you desire – a luxurious look and feel, or a wider variety in terms of material, colour, and design.
3. Durability
An important factor in choosing your car seat cover material is its durability. Since your seat cover is not something you'd be looking to change frequently, you need to ensure its material lasts sufficiently long.
Leather takes the upper hand here. It is more durable than cloth, and fares better in protecting your seats from the wear and tear of everyday use. It, therefore, saves you money that may go into getting your seats fixed.
Genuine leather seat covers can easily last for more than 3 years, if suitably maintained. Artificial leather seat covers, however, are not likely to last any more than 2 years.
If durability is at the top of your priority list, you may want to stick with leather, genuine or artificial. Fabric seat covers are more prone to damage and getting worn out.
4. Climate
When it comes to climate, fabric seat covers fare better overall, as they are more resistant to changes in weather. This makes them a smarter choice, especially in regions with extreme climate conditions.
Fabric will stay warmer in low temperatures, and cooler in high temperatures, than artificial leather. Artificial leather seat covers are known to get scalding hot in summers, to the extent that if exposed to direct sunlight, they may leave you with skin burns.
While artificial leather is better suited for places with cool climate conditions, it also gets very cold and brittle during winters. Therefore, if you want your seat cover to be comfortable in all weather conditions, you may choose either genuine leather or fabric, depending upon your budget.
5. Comfort
If you put climate aside, leather seats are going to give you the most comfortable driving experience with your car. But here again, there's a catch.
The degree of comfort leather provides really depends on the type and grade of leather you opt for. The high-end variants of genuine leather are naturally soft and distinctly comfortable, while the artificial, cheaper ones are hard and uncomfortable.
As for fabric, it is much softer, to begin with. Add to that, it is a breathable material, so your skin won't sweat when you're driving in humid conditions.
While fabric seat covers feel as soft and comfortable as your cotton T-shirt, genuine leather covers will provide a different level of comfort altogether. Therefore, it again boils down to your taste and your budget.
6. Stains
Nobody likes stains that are hard to remove, whether they are on our clothes, or on our car seats. With the latter, there is always the possibility that you may end up staining them.
Fabric seat covers are more susceptible to such stains. While some stains, like those of ketchup or mud, can be wiped off, the stains left by ink, blood, or oil, may never fully disappear from cloth seat covers.
Leather seat covers, on the other hand, are much more resistant to stains. Liquid spills can be spot cleaned right away, while food crumbs and dirt, which get stuck within cloth fibres, can be brushed off very simply.
Leather, therefore, takes the edge here.
7. Smell
Fabric seat covers not only retain stains, but also absorb smells. So if you happen to spill your ice-cream on your cloth seat cover, then your car may end up smelling like rotten milk by the next morning.
While artificial leather is odourless, genuine leather has a pleasant, reinvigorating odour that is unique to it. People actually savour the smell of new leather that exudes a sense of luxury.
Cloth, on the other hand, discharges only unwanted odours that it absorbs, be it the smell of any food you drop, or the stench if your pet pees, on the seats. And being porous, cloth allows such liquids to seep into the cushions, thereby, letting their smells settle in your car forever.
As leather is more resistant to such smells, here again, it wins over cloth.
8. Maintenance
To maintain your new leather seat covers, and have them looking as good as new, we recommend cleaning with soap liquid, and wiping them with a dry cloth. If you do this every once in a month, and keep dusting them as per the usage and outdoor exposure, they will last sufficiently long.
CETUS Automotives offers genuine leather seat covers for your car, with 3 years' warranty on the leather material.
Artificial leather seat covers can be maintained by simply cleaning them with a wet cloth, every once in a while. However, as stated earlier, they will not last as long as genuine leather covers would.
As for fabric seat covers, besides being machine washable, they also require only periodic vacuuming, or steam cleaning. Aside from that, you can also apply a stain-guard every few years, to protect your seat covers from sustaining stains that they are prone to.
So as far as maintenance is concerned, leather and fabric seat covers are at par with each other, both requiring cleaning at regular intervals.
9. Resale Value
While genuine leather seat covers require a bigger investment initially, they also yield a higher return when you resell your car, if they've been properly maintained.
The only catch here, is that not many who intend to buy a used car, will be willing to spend those extra thousands for leather seat covers. While leather seats and interior do boost your car's resale value, the biggest concern for second-hand buyers is to just get a reliable vehicle at a low price.
But since fabric seat covers are more prone to damage, and get worn out after years of usage, they can degrade your vehicle's potential resale value. Furthermore, leather protects your car seats better, as explained above in Point 3.
Genuine leather car seat covers, therefore, allow you the opportunity to derive a bigger bang for your buck!
10. Children and Pets
As you may have already understood, this is a factor you cannot overlook, while choosing your car seat cover material.
If you have children or pets, or both, who'll be riding along with you in your car, the better and more obvious choice for your car seat cover material, is leather.
As explained in the aforementioned points, fabric seat covers are much more likely to get stained and damaged. Children and pets are the reason why many don't even consider fabric covers for their car's seats.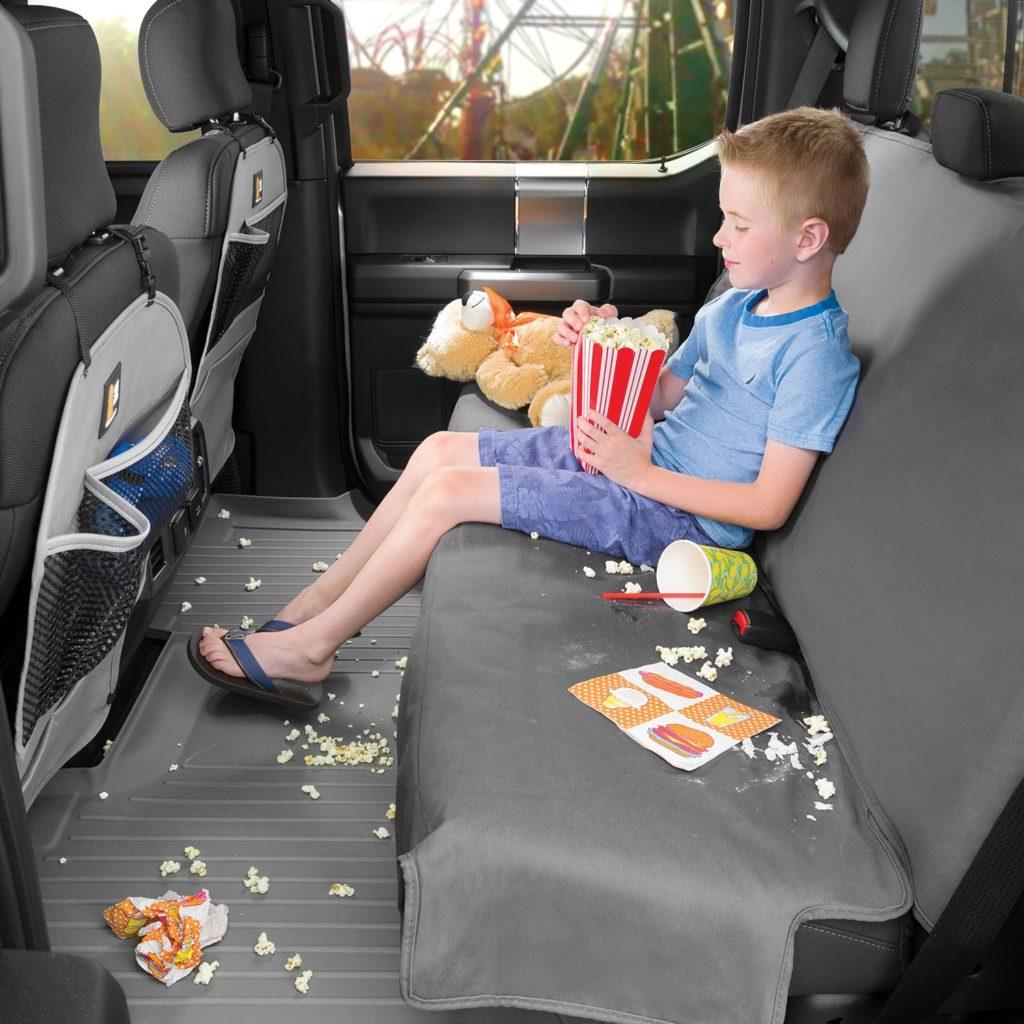 If your child happens to spill their food, or your pet happens to play around with your food, your seat covers may end up sustaining those stains and smells, if they're made of fabric.
With leather, your seats and your interior are better protected. So it may make sense to spend more initially on leather seat covers, than to spend more frequently on repairing or replacing fabric seat covers.
11. Allergies
Your car can be a bad place for allergies, because of its constant exposure to external elements. The open windows, swirling winds, heat during the summer, all of these can lead to dust and allergens taking abode inside your car.
If you or someone in your family is allergic to dust, dirt, or other such allergens, then you might want to choose leather. This is because these allergens can settle into the cloth fabric.
With leather, however, you can vacuum or wipe the dirt off. Of course, leather upholstery cannot prevent other surfaces inside your car from housing allergens, but is a safer choice, nonetheless.
So which is better for you?
As there are multiple relevant factors to consider while deciding between leather and fabric, it ultimately boils down to your personal taste and everyday needs.
Thus, if you strongly desire a plush look for your seats, with unmatched comfort at the same time, and you're willing and able to spend more on their upholstery, you may choose to go with leather. Real leather is that comfortable and durable, giving you a good return on your investment.
On the other hand, if you're restricted on your budget, and want your seats to feel comfortable at all times, in all seasons, you'd want to choose cloth. Cloth seat covers also come in a wider variety of material and colour options, for you to choose from.
There can be one or more deciding factors for you to choose between leather and fabric.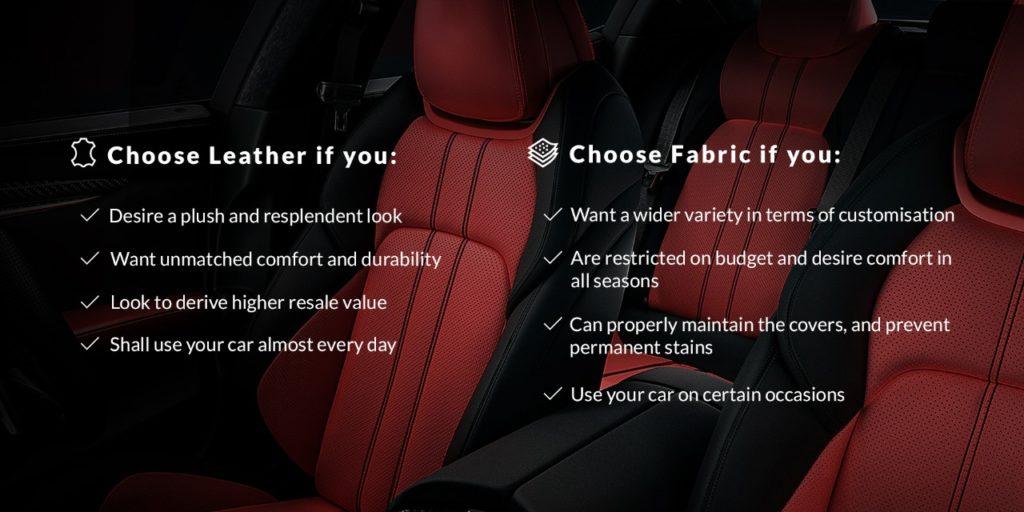 If you use your car everyday to get to work and drive back home, or have children and pets with whom you go out for picnics, leather shall be a better long-term buy. They are much less susceptible to wear and tear resulting from everyday use.
But if your car remains mostly parked in your garage, and you use it only to take road trips, or to travel to far-off destinations, fabric seat covers will bring you value for your money. They are a low-priced, all-seasons choice.
If you choose Leather, what next?
After weighing in every factor and need, if leather wins for you, how do you decide from whom to purchase leather seat covers, and have them installed on your car seats?
With genuine leather, you've got to be extra careful. Being a premium material, there are quite many cheaper, low-grade versions available in the market.
Given the investment you'd make, and the quality you'd expect with leather, you have to place your bet on not only the right product, but also the right vendor. In this regard, you may want to choose a trusted name in the leather industry.
Hence, CETUS. CETUS is the fourth-generation child of BAB Leather, a known name in the Indian leather landscape, with experience and expertise spanning 75 years.
BAB Leather is also certified for its leather manufacturing processes, by the Leather Working Group (LWG), a global multi-stakeholder group that promotes sustainable and appropriate environmental business practices within the leather industry.
CETUS is the automotive division of the BAB Leather group, helping you in customising your car seats and interior, with the right leather material as per your taste, budget, and need. Our USP lies in the unlimited possibilities for the design, that we can craft on your car seat covers.
If you are considering installing new leather covers on your car seats, or are looking to upgrade your seats from fabric to leather, give us a call, or shoot us a mail. We'll be more than happy to assist you.